Technical Data:
Parameters(25℃)/Model
SCY6-
100A
200A
300A
500A
Nominal Rms Current (Ipn)
±100AT
±200AT
±300AT
±500AT
Measuring Range (Ip)
300AT
600AT
750AT
1000AT
Load resistance Rmax
≥10KΩ
Output Voltage
±4V or 5V
Working voltage
DC ±12V or ±15V (±5%)
Accuracy @ Ta=25°C
±1%
Linearity @ Ta=25°C
±1%
Withstand voltage
2.5 kVrms/50Hz/1min
Offset Voltage
<±30mV
<±15mV
Offset temperature characteristics
< ±0.08%/°C
< ±0.05%/°C
Thermal drift of Vo
<±2mV/°C
<±1mV/°C
Hysteresis offset
<30mV
<20mV (If=F.S. 0<--->Nominal input current)
Response time
< 5uS
Current consumption
<±15mA
Operating temperature
-20~+80 °C
Storage temperature
-40~+85 °C
Hole inside diameter (mm)
ø21
Dimension(mm):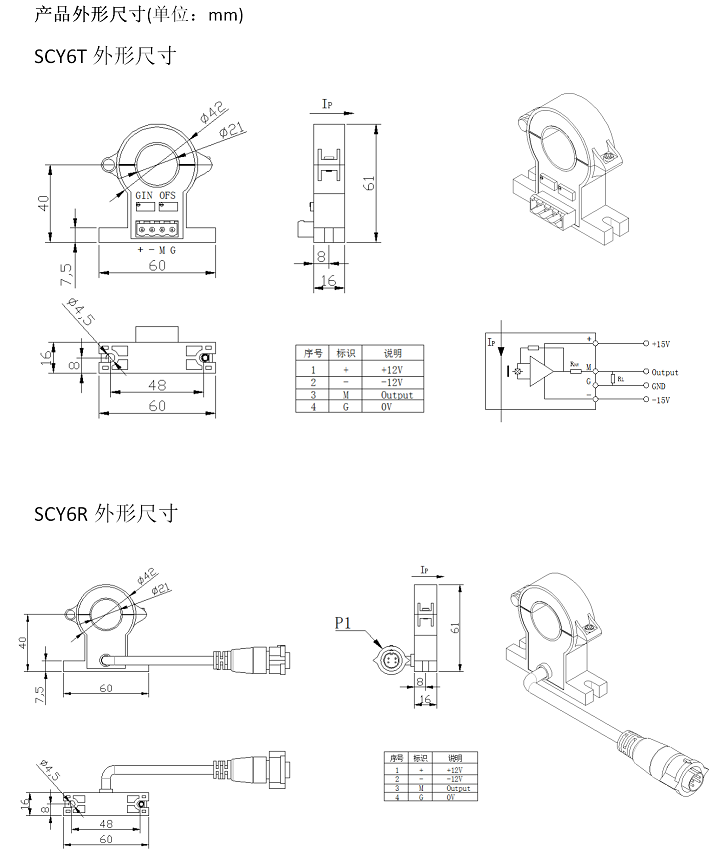 Notes:
1. Size error: ±1mm;
2. Primary aperture: φ21mm;
3. Y6T output terminal: 2EDGVC-5.08-4P
4. Y6R output interface: Amphenol BD-04AFMM-QL8XX
5. The IP indication direction is the positive direction of the current, OFS is the zero adjustment, and GIN is the output regulation;
6. Incorrect wiring may cause damage to the sensor.
Instructions:
1. SCY6 Series 's up and down can open and close without removing the busbarline, easy to install.
2. Based on open-loop principle, it can measure DC, AC and Pulse current.
3. Square perforation, mainly measure wire conductor current.
4. Features: High accuracy, low power consumption, high liability and strongoverload capacity.
Caution: Incorrect wiring may damage the sensor.
Weight & Package:
96pcs per box