General Data:
Parameters(25°C) Model
SCD12-10mA
SCD12-20mA
SCD12-50mA
SCD12-100mA
SCD12-1A
Nominal Rms Current (Ipn)
0 ~±10mA DC
0~±20mA DC
0~±50mA DC
0~±100mA DC
0~±1A DC
Measuring Range (Ip)
0 ~±12mA DC
0~±24mA DC
0~±60mA DC
0~±120mA DC
0~±1.2A DC
Load resistance Rmax
≥10kΩ
Output Voltage
±5V
Working voltage
±12V (±5%)
Accuracy @ Ta=25°C
±1%
Linearity @ Ta=25°C
±1%
Input Offset Voltage
<±50mV
Thermal drift of Vo
< ±2mV/°C
Resolution
10uA
immunity (to external interference)
< ± 5mV When H=50A DC/m
Weight
SCD12 80g
Withstand voltage
3kVrms/50Hz/min
Response time
<600mS
Current consumption
<10mA
Operating temperature
-10~+75 °C
Storage temperature
-25~+80 °C
Dimension(mm):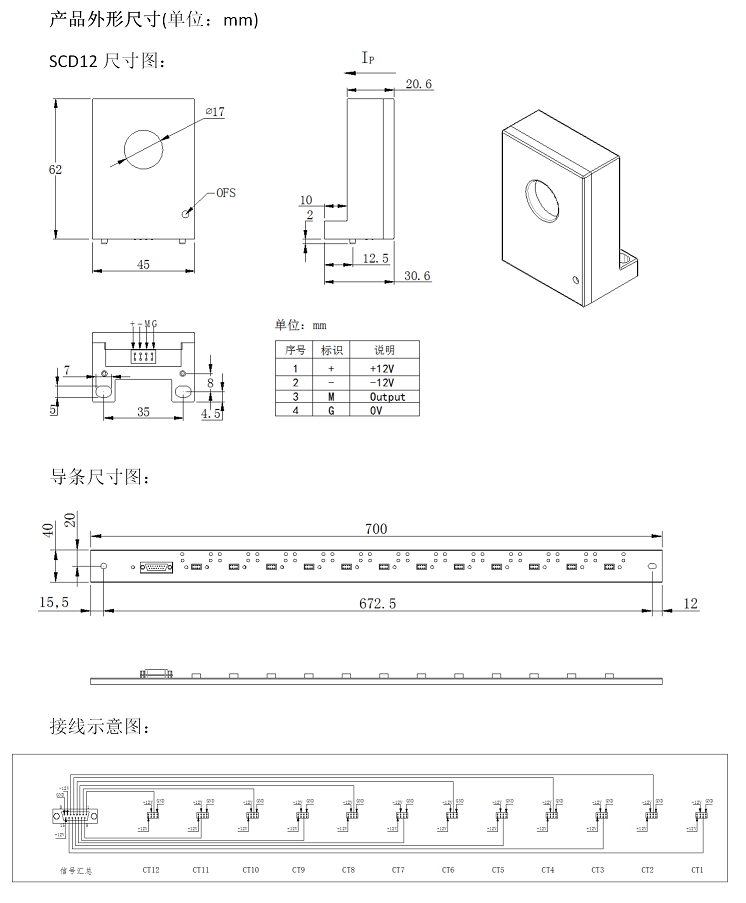 Notes:

1. Product size error: ±0.5mm;
2. Primary aperture: φ17mm;
3. Fastening hole: ○5*2mm*2;
4. Output terminal: 2.54mm-2*4P,
Guide output: DB15 interface;
5. The IP indication direction is the positive direction of the current, and the OFS is the zero adjustment;
6. Incorrect wiring may cause damage to the sensor;
7. The zero voltage of the sensor can be adjusted appropriately according to the needs of users;

Cautions:
Wrong wiring might damage sensors, please take it care!